Paris
Espace Van Gogh, 60 Quai de la Rapée
The Carac 2023 conference aims to present the potential of FIT institutes in terms of characterization, both from the point of view of platform performance and team excellence.
Several topics will be documented and discussed through numerous application examples, both from the perspective of materials and that of integrated systems. Two questions will be debated: one on the efficient use of characterization data, the other on their implementation in a sustainable and responsible development approach. The characterization community involves industrial players as end users, equipment manufacturers (large companies or SMEs), research institutions and technology organizations, as well as higher education institutions.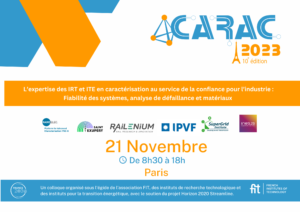 For R&D, characterization data guides researchers and engineers in optimizing the concepts they deploy and the associated implementation conditions. For industry, it provides data to guarantee the proper functioning and analysis of failures, control of the environmental footprint and the useful lives of final products. It contributes to the reliability of industrial processes, to the trust and technological credibility that must necessarily be attributed to them.
If you would like to register to CARAC 2023, click here!
The ESRF participation in this event is part of the flagship initiative "STREAMLINE TOUR – the ESRF meets Industry."