Send your sample day: the call is open!
Do you know what synchrotron X-rays can do?
If you have not used synchrotron X-rays yet, but your research or innovation could use  "making the invisible visible", then our Send Your Sample Day is a great opportunity to find out what our nondestructive 3D micro and nano imaging techniques can do. Our open call is to industry enterprises and researchers who would like to discover more about their samples, products, materials and processes – whether they are metals, food, composites, polymers, ceramics, additive manufactured products, paper, medtech, implants, plastics, electronics, wood, batteries or much more.
---
Send Your Sample Day is an ESRF for Industry initiative, a free of charge opportunity offered to a selected number of newcomers, who will have the possibility to visualise microstructure of their sample. Any industrial company can apply – you just have to complete a short application form (which can be found here) by Thursday 10 November 2022 at 4:00PM – CET.
Quick advice: don't forget to tell us why you would like us to scan your sample and what you would like to discover! Applications will be selected according to feasibility and the potential impact and interest.
Successful industries will be contacted by 18 November 2022, with all the details concerning the sample sending procedure.
---
The ESRF (the European Synchrotron Radiation Facility), situated in Grenoble (France), is the world`s brightest synchrotron light source. It provides scientists with brilliant X-rays to unveil the structure of materials and the mechanism of life. On top of that, the large-scale facility is a major driver of industrial research and innovation, supporting industry in providing solutions to global challenges and boosting competitiveness.
Our expert beamline scientists will perform the experiments during a dedicated time frame, exploiting the wide energy range (20-250 keV) available at ESRF, which allows us to scan very different kinds of samples, coming from a huge range of industrial sectors.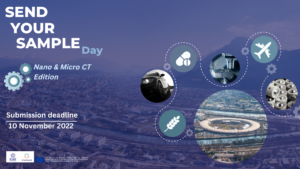 To submit your application, click here!
This initiative is supported by the Streamline project, an Horizon2020 funded project, that will complement the ESRF-EBS upgrade by enhancing user operation through new procedures and systems. For more information about the initiative, please contact us at sendyoursample@esrf.fr.
Send Your Sample Day_The Technical bit