The first team for the STREAMLINE Insight Programme, is at the ESRF!
Inspired by LAAAMP, a specific task "Insight Programme: Observation of an experiment" within Streamline WP5 focusses on providing opportunities for potential future users to gain insight into the practicalities of running an experiment at a beamline. The programme is run as an open call for bursaries to permit researchers inexperienced in synchrotron X-rays to shadow teams of users during their experiments. They will be teamed with user groups matched to their preference of technique or beamline.
LAAAMP is a project started in 2016 by the International Science Council (ISC) through a grant awarded to the joint IUPAP-IUCr project "Utilisation of Light Source and Crystallographic Sciences to Facilitate the Enhancement of Knowledge and Improve the Economic and Social Conditions in Targeted Regions of the World". The aim of the project is to enhance the use of advanced light sources (such as synchrotrons) and crystallographic sciences in Africa, Mexico, the Caribbean, Central and Southeast Asia, Middle East and the Pacific Islands.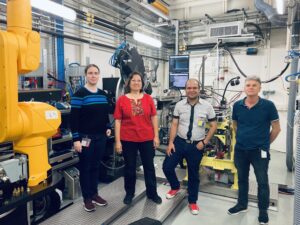 Combining both Streamline and LAAAMP support, the first team is already at the ESRF, hosted by Dr Andy Fitch and colleagues at the powder diffraction beamline ID22 – Professor Graciela Diaz de Delgado and Analio Dugarte (from Laboratorio de Cristalografía-LNDRX, Facultad de Ciencias, Universidad de Los Andes, Venezuela), carrying out their research focused on "Synchrotron radiation study of the incommensurate modulated structures of several metal derivatives of valproic acid, an API used in the treatment of epilepsy and bipolar disorder".
The research is the basis of the doctoral thesis being pursued by Analio Dugarte.
---
"For several years, we have been interested in gaylussite, a mineral first identified in Lagunillas, Mérida, Venezuela, in 1823 by Jean-Baptiste Boussingault, a French chemist considered the founder of modern agricultural chemistry. The scientific and historical context of the discovery of gaylussite have always fascinated us. During this visit we have had the opportunity to carry out this work using the extraordinary facilities of ESRF and the great expertise of the ID22 beamline scientists."
– Prof. Graciela Díaz de Delgado, Professor of Chemistry at Universidad de Los Andes, Mérida, Venezuela.
"This visit to ESRF through the LAAAMP program will be an unforgettable experience. It has provided us with deeper insights into the structures of Active Pharmaceutical Ingredients, particularly antiepileptics, that we have been studying in our laboratory in Venezuela. "
– Lic. Analio Dugarte-Dugarte, PhD. Student at Universidad de Los Andes, Mérida, Venezuela.
---
The Venezuelan team, Graciela and Analio, will be at ESRF till the end of November 2022, and we hope that, by teaming up with Andy, they will be able to obtain valuable synchrotron experience and outcomes for their challenging project!
Picture from left to right: Catherine Dejoie (ESRF), Graciela Diaz de Delgado and Analio Dugarte (Insight programme team), Andy Fitch (ESRF).