STREAMLINE Tour: the ESRF meets Industry
The European Synchrotron ESRF is the brightest Synchrotron Source in the world and the first fourth-generation high energy light source. With the implementation of the Extremely Brilliant Source (EBS), the ESRF source increased its performance by two orders of magnitudes. This translates into the fastest and most complex experiment, with high throughput, multimodal and multi-scale capabilities, and ultimate time and space resolution. Those new features enable novel opportunities but also novel challenges, in particular with respect to the amount of data generated and the data analysis.
Conscious of the game-changing opportunity offered by the ESRF, the European Commission approved the funding of STREAMLINE, an initiative worth 5 million euros, to help the ESRF in defining a novel business model that could optimize the exploitation of the disruptive capabilities offered by the EBS.
Among the ground-breaking development issued by STREAMLINE, the development of more advanced routine services, based on mature methodologies with a quiet extended community of users, seems the most relevant for the industrial community.  This deployment of novel high-throughput routine services, by paving the way to statistical measurement of large data sets, represents a major advancement for the industrial users' community.
The novel services have been developed in the domain of:
♦ Powder diffraction, supporting the domain or phase identification and strain and stress determination;
♦ X-ray fluorescence for Elemental analysis recognition;
♦3D imaging where the increased automation in the collection of tomographic data for can be a game changer for non-destructive inspections and failure analysis.
With all this in mind, the ESRF launched a flagship initiative: STREAMLINE Tour – the ESRF meets industry!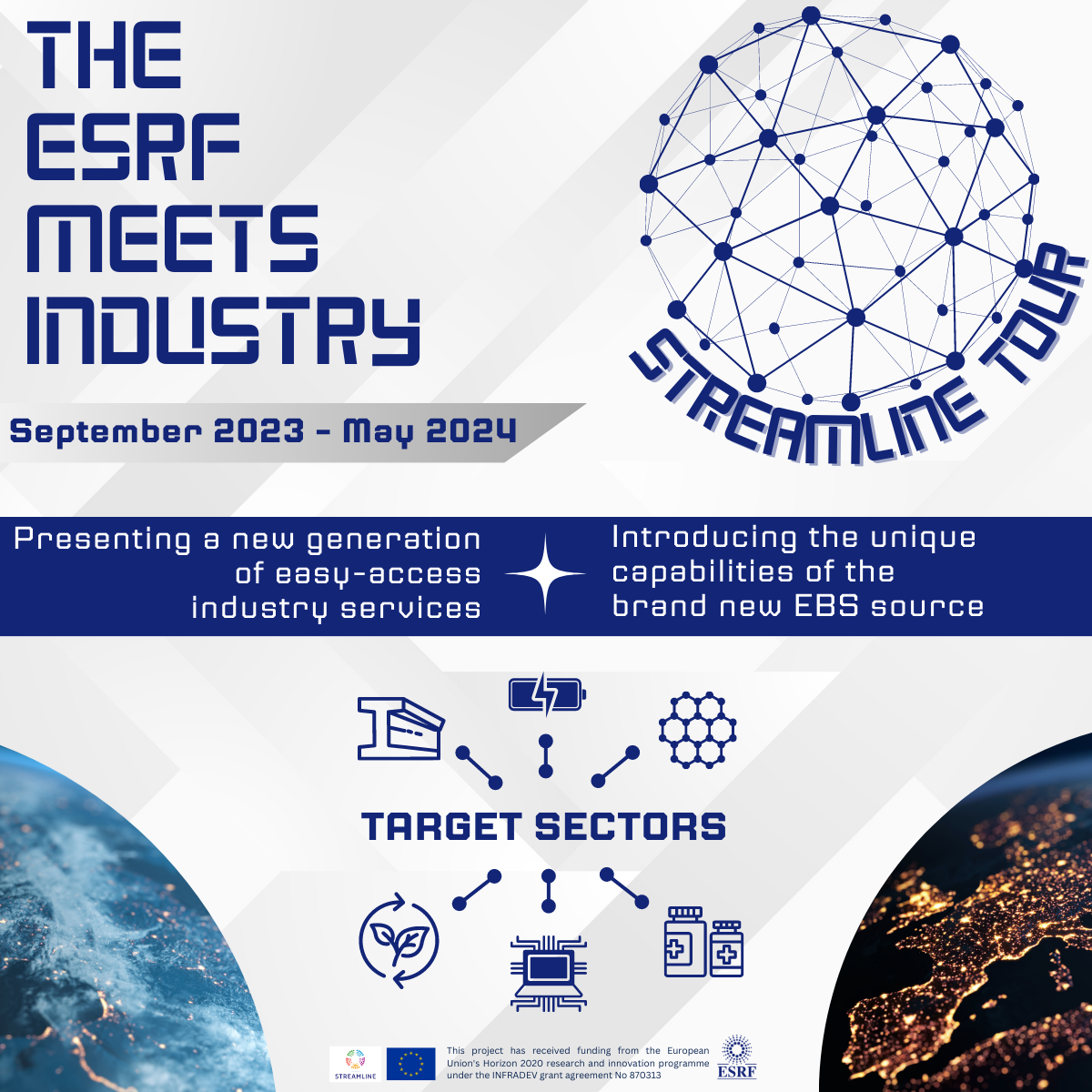 The ESRF industrial team will be traveling across Europe promoting and participating in a selection of events where we would like to meet our industrial partners and offer them the possibility to know our novel services tailored to their needs.
The ESRF will be present alone or with a selected partner and will engage to meet industrial partners in all the sectors that would benefit the most from the unique capabilities offered by the new high throughput fast track services: battery and energy, metallurgy and engineering, nanotech and advanced materials, pharma, electronics, food-science, consumer products, environment preservation, and mining.
Check the dedicated website section here to not miss any updates about the STREAMLINE tour!